Kerrie McGiveron, University of Liverpool
On the afternoon of Sunday 9th December 1973, there was a demonstration of over 400 people outside Walton jail in Liverpool. Activists used loud speakers to draw attention to their cause as they clashed with police and prison officials. The demonstration was held in protest at the jailing of two men, Brian Owen and Larry Doyle, for refusing to pay their rent.
Radical newspapers enthusiastically reported that the police had been overwhelmed by the 'organised defiance' of the rent strikers. Their demonstration also attracted the attention of the national press, with The Guardian reporting that activists had been picketing since the men had been jailed. They noted that Brian's four year old son had held a banner reading 'Release my Daddy for Christmas.'
These demonstrations were part of a long-fought rent strike involving 3,000 Kirkby residents. The strike had started in October 1972, as a response to the Housing Finance Act, which raised rents and rates for all councils. For the people on the Tower Hill estate in Kirkby, this was unacceptable. Their high-rise flats were damp, badly planned and lacked adequate fire escapes. Their response was to form an action group that declared "We Won't Pay!"
Radical Histories
This activism is the subject of my doctoral research. I am researching one of the groups involved in the rent strike, Big Flame, who were active from 1970 – 1984.
Big Flame began as a radical fringe newspaper in Merseyside and later emerged as a national organisation. It operated in small collectives based in communities or factories. These collectives were known as 'base groups' and tended to be made up of four or five Big Flame  activists.
My research focuses on Tower Hill Base Group, which operated from a flat on the estate. As Big Flame were a mixed sex revolutionary group, my research promises to contribute to the history of activism and the Women's Liberation Movement (WLM) across this period. By looking at 1970s activism in this way, I am able to critically assess the impact of the WLM using microhistories of individuals and their communities to assess the wider impact.
Big Flame activists in Tower Hill followed rent collectors around to ensure that residents were not pressured into breaking the rent strike. They also held meetings and produced leaflets to engage with working-class residents on a range of issues such as price rises, the cost of living, the lack of childcare, and the isolation experienced by housewives living in high rise flats.
This opened up discussion about the Women's Liberation Movement (WLM) and the Wages for Housework debate. These discussions led to the establishment of a women's group and the provision of childcare for children on the estate.
The Tower Hill Base Group continued its work after the rent strike, with campaigns for road safety barriers and the provision of amenities in the town.
Community Histories
It was only by chance that one of the first cases of activism by Big Flame took place on my door step. But living in Kirkby has compelled (and enabled) me to focus on the minutiae of their community activism.
I have visited the places and spaces of protest and have chatted at length to people involved in the rent strike. I have photographed these spaces, which are gradually being demolished in a process of regeneration. I have also spoken to photographers in my local community, who shared their images and memories with me.
These activities have allowed me to build a vivid picture of the rent strike and its legacies. They have also allowed me to develop a methodology and I intend to utilise for further research.
I have also begun to explore different ways of engaging people with this history. At this year's Social History Society Conference, I presented my research poster "Notes on a Community Struggle" Big Flame and the Kirkby Rent Strike 1972-73 and produced an accompanying hand-made leaflet.
The format of this material was designed to reflect the leaflets and posters used by Big Flame in the 1970s. It included hand-drawn cartoons and slogans, a typewritten font and was copied mostly in black and white. I plan to expand this technique to explain my research to the communities that I am researching through leaflets, flyers and a 'zine.
I hope that this approach will open up new discussions about the types of historical sources available to us and the way to approach radical pasts, while, perhaps, reflecting on the political climate in the present.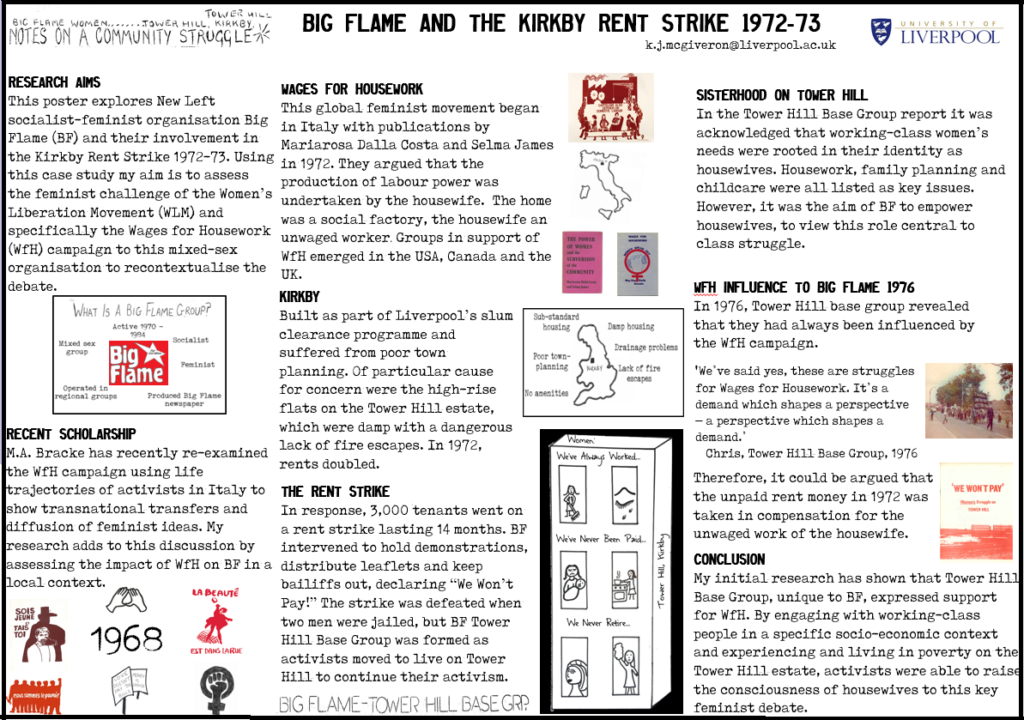 About the author: Kerrie McGiveron is a PhD candidate at the University of Liverpool. Her research focuses on new left activism, second wave feminism and specifically, the radical left wing group, Big Flame.