Dr Alex Mold, London School of Hygiene & Tropical Medicine
---
As a historian of public health, I have spent many years teaching students about past outbreaks of infectious disease, and how societies have responded to these at different times and in different places. This subject now seems more relevant the ever. The COVID-19 pandemic has led to an upsurge in interest in the history of epidemics, with journalists seeking cold comfort in the Spanish flu, or cholera, or the Black Death. As distressing (and sometimes misleading) as these historical parallels are, the frequency with which they are drawn speaks to an apparent need to make sense of the current pandemic with reference to previous ones.  A pandemic is not an opportunity, but it does offer a moment to reflect on the history of public health, and how this might help us understand our current predicament, but also how we learn about death and disease in the past.
The 'lockdown' has meant that many people are spending a lot more time at home and are looking for activities to do and new things to learn. Some educational commentators have predicted an upsurge in the popularity of MOOCs – Massive Open Online Courses. My own institution, the London School of Hygiene and Tropical Medicine, has been running MOOCs, hosted by Future Learn, for several years. I am the Lead Educator for the course A History of Public Health in Post-War Britain. Together with my colleague Suzanne Taylor, a team of mentors and learning technologists, we have been running the course since June 2017. The course is free, although learners can pay a small fee for a certificate of completion if they choose.
The course is divided into three sections, designed to be studied over three weeks. Learners are expected to spend about four hours a week engaging with the material, but some may take more or less time – they control their speed of learning. Each week is broken up into a series of 'steps'. These consist of a mixture of short articles, videos of talking heads, mini-lectures with slides, and structured discussion exercises. Learners are also encouraged to comment on what they have read or watched and interact with each other and the mentors. The mentors keep an eye on the posts and redirect the discussion as required. At the end of the week there is also a multiple-choice quiz. Learners do not need to 'pass' the quiz to move on to the next week of learning.
Each week is orientated around a question that allows learners to explore aspects of the evolution of public health in post-war Britain. Week 1 asks what public health in post-war Britain looked like; week 2 focuses on the challenges faced by public health; and week 3 concentrates on the solutions offered to these challenges.  The steps are subdivided into sections that address elements of the overall theme. For example, in week 2, learners explore the changing nature of public health challenges by looking at the history of different chronic and infectious diseases as well as the impact health inequalities and the environment have on public health.
Over the last three years, we have run the course nine times. In that time, over 10,000 people have joined the course. As is often the case with MOOCs, the first run had the largest number of learners (more than 2,000) and numbers had dropped off to around 700 per run, but the latest run, which has coincided with the COVID-19 pandemic, has seen numbers increase to around 1,700.
Of course, not all of the people that sign up for MOOCs actively engage with the material. Indeed, this is one of the most common criticisms of MOOCs. A study conducted by researchers at MIT which examined MOOCs run by MIT and Harvard found that in 2017-18 just 3.13% of MOOC participants completed their course. On A History of Public Health in Post-war Britain, we've faired rather better. In the latest run, 16.3% of learners completed 90% of the steps, and 21% completed 50% of the steps.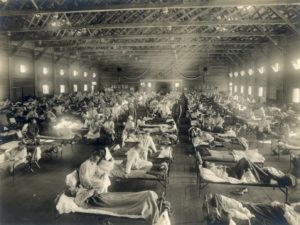 Beyond the statistics, the course team and I have found it particularly stimulating to read the learners' comments both on the course whilst it's ongoing, and when it's over. Learners come from all over the world, and hearing about their experiences with different health systems and their histories has been fascinating. Their comments have also prompted us to think about what the course is not and what we do not teach. Some learners expect the course to cover more of the history of the NHS. We do discuss the place of public health services in relation to the NHS, and how these have moved in and out of the formal boundaries of the NHS since 1948, but the course is not a history of the NHS per se. Learners also pointed to some notable gaps in coverage, especially mental health and the environment. We have now added steps that cover these topics. Inevitably, in the most recent run, learners want to talk about COVID and how this relates to past flu pandemics, something that we do not cover, but may add in for future iterations.
Most interesting of all has been the way learners have drawn attention to our own assumptions and perspectives and how these are manifested in the course. One learner felt that we spent too much time and space discussing health inequalities, and that we should 'stick to public health, not politics.' My response to that would be that public health is inherently political, but I could see what the learner was driving at, even if I did not necessarily agree!
Learning at a distance, whether that be through MOOCs or universities and other education providers switching to online provision, looks set to continue as we begin to figure out how to live with COVID. I believe that courses like ours will have a place in helping a wider range of people think about how the past influences the present, and may, in a small way, help us make better sense of our moment.
About the author: Alex Mold is Associate Professor and Director of the Centre for History in Public Health at the London School of Hygiene and Tropical Medicine.  She works on the history of public health and especially health education. She is the co-author of Placing the Public in Public Health in Post-War Britain, 1948-2012 (Palgrave, 2019).