Kremena Dimitrova, University of Portsmouth
---
This blog by Kremena Dimitrova was commended in the 2020 SHS Postgraduate Prize.
---
At the end of 2019, I was commissioned by Professor Alex Samely and Dr Stefania Silvestri to work on the 50 Jewish Objects project. The commission involved researching and visually investigating, employing a graphic narrative format, one or more of the objects. I chose to focus on a 13C compendium of Jewish law – a manuscript of Isaac ben Joseph of Corbeil's Sefer Mitzvot Katan (Semak).
As an illustrator, what drew my attention to the manuscript was that its legal material was enlivened by homilies, parables and stories. I was also drawn to the hand-painted decorative illustrations and illuminated letters throughout the manuscript. As an illustrator-as-historian, I was interested in the transparency of the layering of histories and historical fragmentation (the manuscript was rewritten in the 13C as a newer and shorter version of the Sefer Mitzvot Gadol of Moses of Coucy). The original text remained at a certain size while the new textual additions were in smaller writing. The writer of the manuscript did not try to conceal his comments on and/or interpretations of the original text.
At the initial stage of my research, I engaged in sketching and reading a detailed description of the manuscript, including what is known about its history and about each decorated page, so I could identify what I was interested in.
I discovered that an English translation of the manuscript did not exist, and because I did not know Hebrew, this was initially frustrating. Instead of seeing this as an obstacle, I decided to generate a creative response focussing on and celebrating the history of the manuscript and its creator.
Even in the 13C, Isaac ben Joseph appreciated the potential of the visual to cater for and attract different audiences. Although, it wasn't a popular practice, and many Rabbis were against it, because according to them the visual distracted from the text and its message, Isaac decided to include illuminations and illustrations in his manuscript. Less text and the use of visuals – it is not surprising that the Sefer Mitzvot Katan (Semak) received wide popularity around the world and was recognised by many famous scholars.
Although the manuscript incorporates illuminations and illustrations, they are marginal and not central to its subject. The illuminations and illustrations do not interpret the text either, but are used purely for decorative purposes. My approach looked into giving them new life and bigger purpose by creating comic strips in ways that marry and juxtapose words and images so that the illuminations and illustrations would not be merely marginal and secondary to the text, but would take centre stage and tell the (hi)story. I wanted to test if employing the popular media of comics could give this 13C manuscript and its (hi)story a new 21C life by making it more accessible and contemporary for diverse and multicultural audiences to engage with.
My creative response to the manuscript privileges the visual and uses even more visuals and even less text, thus corresponding to the visual culture of our visual 21C. I used (digital) collage techniques for the creation of the comic strips which, in my view, correspond to historical fragmentation (art and history result from an assemblage of different forms creating a new whole or many new wholes each time). Moreover, the manuscript was manually written by different scribes and manually illuminated and illustrated by different hands. In contrast, I created my comic strips entirely digitally (as a digital collage) by deconstructing and reconstructing the manuscript, thus corresponding to the modern technological processes of digitisation that rule our 21C lives.
In line with my interest in the fragmentation of history, I saw the comic strips as separate fragments which in my mind corresponded to the panels and fragmented text of the manuscript.
I wanted each to function as a separate entity, but to also contribute to the overall narrative of all comic strips – interconnected, non-linear, and giving autonomy to the audience to decide which one to start with and which one to follow it, almost like a game. The comic strips can be rearranged in various sequences and read horizontally and vertically thus offering no right or wrong way of reading and no prescribed beginning or end. This idea was inspired by the fact that the manuscript is written and read from right to left, which is the opposite to my way of writing and reading.
The little that is known about the Sefer Mitzvot Katan (Semak) indicates that Isaac ben Joseph divided its precepts into seven "Pillars" corresponding to the seven days of the week. Isaac intended for the work to be read through every day of the week. In line with Isaac's concept, I also decided that my creative response to the manuscript will unfold over seven comic strips pillars (panels) telling the (hi)story of Isaac and his manuscript (as an artefact and its creation) for audiences to enjoy every day of the week.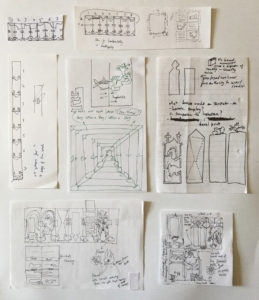 The aim of my creative response was to turn the Sefer Mitzvot Katan (Semak) into public history – as something that could leave the confines of The John Rylands Library and its website and become more accessible; as something that would start a conversation, spark curiosity and encourage a long-lasting interest in Jewish heritage, which I think more people should know about and celebrate. I see my creative response as an artefact adding a new layer of history to the manuscript and a new contemporary way to engage with it and commemorate it.
As part of this commission, I am planning an exhibition and delivering outreach activities programme comprising of comics/(hi)story-telling demonstrations and workshops in Manchester Jewish community sites to showcase the project, captivate public's interest and widen understanding of artefacts, Jewish history, and Jewish studies. I am also designing merchandise based on the commission which will be available in The John Rylands Library's shop as well as writing blog entries which communicate my research, thinking, design decisions, processes and approaches when visually responding to the manuscript. My comic strip pillars will become part of The University of Manchester's permanent collections in The John Rylands Library.
You can find out more, and see close up studies from the work here: Deconstruct / Reconstruct: Turning a 13C Jewish Manuscript into 21C Comic Strips
About the Author: Kremena Dimitrova is a London based illustrator-as-historian, lecturer and PhD researcher in Visualising History at the University of Portsmouth. This artist/researcher residency was commissioned as part of the 50 Jewish Objects project at The Centre for Jewish Studies at The University of Manchester by Alex Samely (Professor of Jewish Thought and Co-Director of the Centre for Jewish Studies) in response to the research produced by Stefania Silvestri (Postdoctoral Research Associate at the Centre for Jewish Studies).