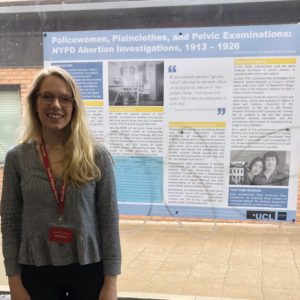 We are delighted to confirm that the 2019 Postgraduate Poster Prize has been won by Lizzie Evens for the poster 'Policewomen, Plainclothes, and Pelvic Examinations: NYPD Abortion Investigations, 1913-26'.
Lizzie is a first year PhD student at the Institute of the Americas, University College London, where her studies are kindly supported by the Wolfson Foundation. Her project looks at female regulators of abortion in the US in the first criminal era.
The poster aimed to counter the belief that early policewomen were simply 'nurturing' social workers or 'municipal mothers'. Instead, it used newly available sources to show that some went undercover to investigate abortion in a punitive approach against (often immigrant) midwives.
The prize was decided by an open ballot conducted during our recent conference at the University of Lincoln.
Lizzie told us later that:
I was thrilled by the positive response to the poster and am grateful to the Society and its members for the prize. My research draws upon histories of gender, medicine, sexuality, and criminality, therefore presenting a poster was a really valuable way of introducing a large group of scholars to my work and I enjoyed learning how other academics' research intersects with my project in really interesting and exciting ways.
You can view a pdf version of the poster here.