Dr Ross Horsley, West Yorkshire Queer Stories
It is a year since the launch of West Yorkshire Queer Stories, a Heritage Lottery-funded history project that's recording the life stories, experiences and opinions of LGBTIQ+ folk across the region. This post uses that milestone to recap what we have achieved so far and to look ahead to the next twelve months.
West Yorkshire Queer Stories, based at the long-established sexual health organisation Yorkshire MESMAC, has reached out to local LGBTIQ+ people and groups with the aim of boosting their representation among existing historical archives, including those of the West Yorkshire Archive Service and Leeds Museums. As one of the project's two full-time Community Development Workers, it's been my job to arrange oral history interviews, gather relevant artefacts and ephemera, and manage a network of volunteers engaged in both of these activities in every part of the county. From tales of the 1970s heyday of Huddersfield's Gemini nightclub, to the issues surrounding modern-day marriage and parenting, we're interested in every aspect of queer experience – and are determined to ensure that, as well as being preserved for future study, these stories find their way into new educational resources, artistic commissions, and a range of narrative formats.
For too long, queer identities have been marginalised or even omitted from mainstream histories – whether in the guise of the markedly unmarried ancestor on the family tree, whose 'embarrassing' keepsakes were destroyed by unsympathetic relatives, or the busy cafe whose stark entry in a 1980s telephone directory makes no mention of its largely lesbian clientele. West Yorkshire Queer Stories is already starting to shade in some of those voids, encouraging a wide range of LGBTIQ+ people to remember the places they've lived, loved or left behind, and the events that shaped their worlds – often privately, sometimes politically, but almost always under the scrutiny of public opinion.
With a target of 150 stories to collect, incorporating the voices of at least 190 individuals, our assignment is nothing if not ambitious. To raise the profile of our project, we have worked closely with other groups and tied our activity to existing events. This year's LGBT History Month offered plenty of opportunities to do this, especially as it saw the addition of the first West Yorkshire location to its network of hub cities, each of which provide talks and events as part of the growing, global OUTing the Past festival. The new member, Leeds, hosted an LGBT-themed conference at its City Museum, along with a bustling community marketplace and Bird la Bird's Travelling Queer People's History Show, a serio-comic lecture aimed at 'queering' traditional academic discourse. We arranged events of our own, aimed at increasing the participation of areas and communities that might otherwise go underrepresented. So there was DIY heritage plaque-making in Wakefield, a new LGBT Wikipedia editing group, and a workshop themed around brushing up your Polari skills.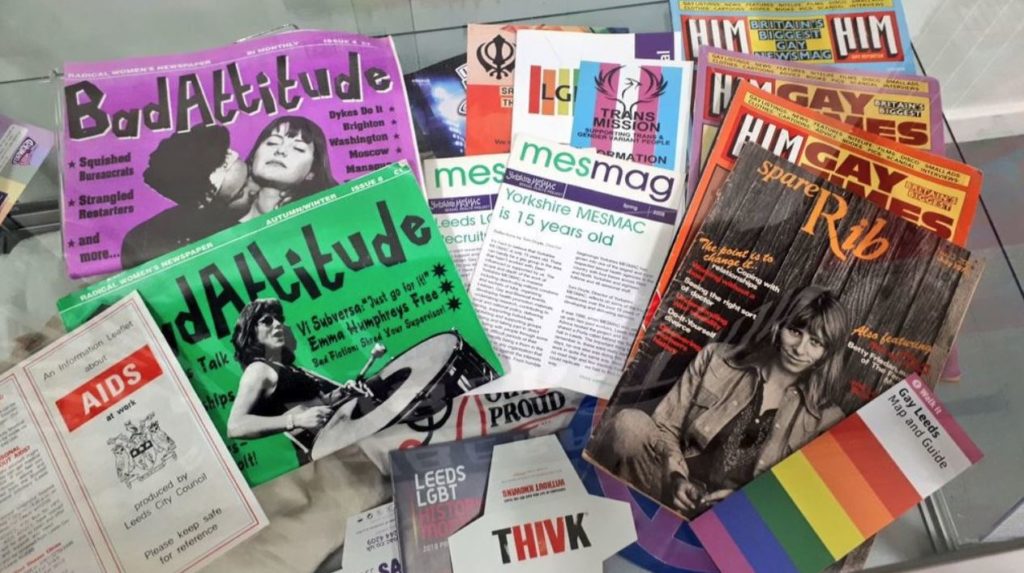 We are currently preparing to launch a story-based website featuring audio interviews from our collection and are looking forward to sharing this archive with new audiences. We hope that it will identify and help bridge longstanding gaps in local social history. With over one hundred oral history testimonies now recorded (running to several days' worth of back-to-back audio files), it has become essential for us as archivists not only to round out the remainder of our remit, but also to understand what we've already collected: what and who does the footage represent, and what we are we going to do with it?
To begin answering these questions, it's useful (and interesting) to listen back to the stories in our sound archive with one ear on the past and one on the present. We hear the reflections of an older lesbian feminist from Leeds as she evaluates the affects on society of her protest work in the 1970s and 80s; we learn how one gay teacher at a Catholic high school in the 1990s disregarded the restrictions of Section 28 as it 'only applied to state schools'; and we shudder as a young gay asylum-seeker describes a night of murderous turmoil in his home country that led to a flee for survival, followed by a soul-destroying stay at a West Yorkshire detention centre.
Play more snippets from our collection below, and get in touch if you or someone you know might like to contribute something. West Yorkshire Queer Stories is listening!
---
Kit describes the emotional impact of taking part in the first Leeds Trans Pride a year ago and how the march took shape
Hafsa moved to Bradford from Pakistan in the early 2000s and explores how it felt to be open about her sexuality for the first time
John remembers hearing about AIDS in the 1980s and how growing public concern affected his lifestyle as a gay man in Wakefield and Leeds
---
About the author: Ross Horsley is a Community Development Worker at Yorkshire MESMAC and previously worked as a local and family history librarian. His satirical book My First Dictionary: Corrupting Young Minds One Word at a Time was published in 2011. You can keep up with West Yorkshire Queer Stories' updates and events on Twitter and Facebook as @wyqueerstories and Instagram as @wy.queerstories