James Stark and Catherine Stones, University of Leeds
Germs have always been hidden. Impossible to see with the naked eye, microorganisms inhabit a world of their own. Invisible miniature organisms had long been theorised but were first revealed by the microscopy of Anton van Leeuwenhoek in the seventeenth century. With the increasing popularity of germ theories of disease in the second half of the nineteenth century these mysterious and other-worldly creatures were endowed with huge power as agents of disease, yet beyond specialised scientific and technical communities there were very few opportunities to actually see them. Illustrators, graphic designers, and educators grappled with the challenges of making these visible. They developed a huge range of identities, with germs depicted as everything from insects and pictures of cells to misshapen monsters and soldiers.
Images of germs reflected anxieties about the prospect of infection, but also concerns about socio-cultural factors, such as race, national security, and gender. Germs were often characterised as invading forces, from which the body needed protecting, appeared in advertising materials, public health promotion, and school textbooks. In 1935 Boots, the retail pharmacy company, commissioned leading Hollywood animator Ub Iwerks to produce a promotional film for the company's everyday health products. The result was the six-minute cartoon See How They Won, which featured a germ army under the command of Captain Sore-Throat, Brigadier Blood-Poison, and Flight Commander 'Fluenza, who proceed to attack the home of John Careless, a previously healthy man who had let his standards of hygiene slip. Careless and his family are able to repel the forces of the germ army, aided by the "Good Health Army" in the form of Boots pharmacists.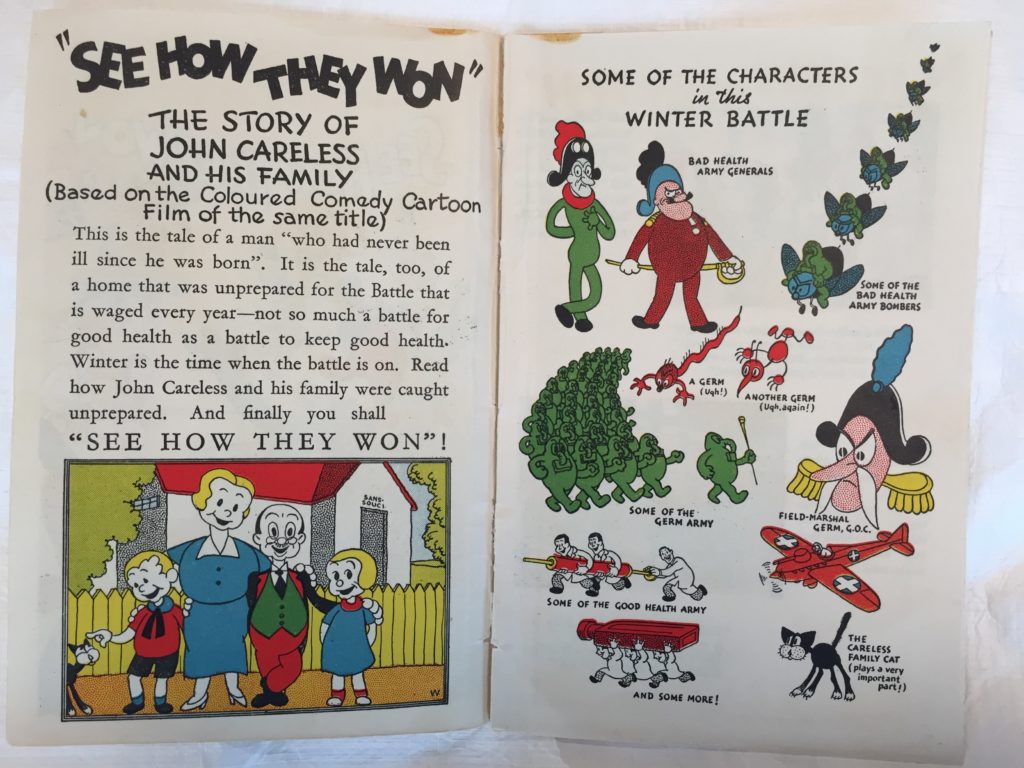 See How They Won was shown in cinemas and at popular Health Weeks throughout Britain during the 1930s, but it was just one of the ways in which germs were made visible to non-specialist audiences. British public health posters of the mid-twentieth century featured a huge array of germ images – from abstract shapes to menacing animals – and warned that 'coughs and sneezes spread diseases.' Some of the most prominent figures from this golden age of British graphic design – Reginald Mount and Eileen Evans, as well as the cartoonist Giles – took up the challenge of imagining germs in new ways. The imagery of germs provided the backdrop to campaigns about wartime first aid, workplace and food safety, and everyday hand hygiene.
Many of these pictures have historical significance, for example, highlighting how germs were recast in wartime as agents of the Axis powers, but they are just as important in tackling one of the biggest health-related challenges: anti-microbial resistance. Through the project "Lifting the Lid on Bacteria", supported by a grant from the Arts and Humanities Research Council, we have been working with primary school children to reimagine how these historic germ images can inspire new graphics to encourage good hand hygiene among children. Taking inspiration from germ images past and present, a series of co-design workshops have led to the "Use 1, 2, 3 to get Germ Free" series of ambient graphic interventions. Here, germs are represented as abstract pseudo-monsters, banished by the heroes of the bathroom: Super Soap, Warrior Water, and Dynamic Dryer.
During the so-called 'golden age' of bacteriology in the 1880s and 1890s, microbiologists such as Robert Koch and his disciples – especially in Germany and Britain – became microbe hunters. They tracked down and identified the organisms which caused deadly infectious diseases such as anthrax, cholera, and tuberculosis. Their search for a magic bullet has since proved elusive, and the metaphor of ongoing warfare both within and beyond the body – our own immune system, vaccines, and, later, antibiotics, engaging in microscopic combat with germs – has persisted ever since.
About the authors: James Stark is an Associate Professor of Medical Humanities at the University of Leeds and is co-director of the Centre for Medical Humanities. Catherine Stones is an Associate Professor in Graphic Design with a specialism in health communication. Catherine is currently working on an AHRC funded project about the visualisation of health.