Laura King, University of Leeds
How can we best communicate and share our research? As historians, our writing is always going to be crucial. Our books and essays are our bread and butter, increasingly peppered with blog posts, tweets and articles written with the hope of reaching an audience outside the confines of academia. We might also appear on television, radio or a podcast, run a heritage trail, put on an exhibition, or work in collaboration with museums, archives and community groups. There is much fantastic work going on.
But could we be even more creative?
This summer, I had the absolute delight of seeing my research represented as a picnic, of all things. Complete with tartan rugs, hampers, and proper napkins (actually, more accurately, 'mapkins'), a collaborative team of artists, designers, historians and chefs put on a 'Picnic with Absent Friends'.
This was part of a bigger project, in which artist Ellie Harrison, of the Grief Series, has been exploring where the memories of the dead live. Ellie and I have been collaborating over the last couple of years, and the culmination of this has been the creation of a space to discuss that question – of the location of our memories of the dead – in an ordinary, domestic caravan.
This project is, in turn, part of a longer series of artworks about grief. Ellie and the Grief Series team made this ordinary caravan extraordinary, transforming it into a mobile micro-museum and archive full of stories, which, as project postdoc Jessica Hammett writes, felt open, non-judgmental and safe. Touring Britain and Germany this summer, the caravan invites participants to share and collaborate with us in building a creative space to think about how and why we remember those we've lost. And this is the focus of my research project, which in part inspired some of the caravan's contents, the stories and scenes hidden in drawers and cupboards.
The journey was punctuated by a series of meals and the Picnic with Absent Friends was the icing on the cake. Taking place on a hot, sunny June day at Kirkstall Abbey, Leeds, it marked an end to the caravan's inaugural tour. Each picnic item was based on a story I'd uncovered in the archives, and was brought deliciously to life by the Swine that Dines (if you're near Leeds, I totally recommend eating there).
The menu was based on material from my research, in which people in the past wrote about food as a specific way to bring someone's memory back to life, or recalled meals or things they ate when writing in tribute to someone they loved. For Peter Wood, this meant brewing elderflower champagne as his Aunt Annie had done each June, from her handwritten recipe (reprinted in his family history, 'Won't Somebody Please Remember the Knowles Family of Knostrop?') For Elin Gottschalk, who was exiled from her native Estonia in the Second World War, remembering her grandmother, her Estonian heritage and the food of her childhood were bound closely together throughout her autobiography, Into Exile (2013). So of course we toasted absent friends with elderflower fizz, and feasted on beetroot salad inspired by Elin. There were delicious soft fruit pies, cheese toasties, morning rolls, fruitcake and more.
There are some wonderful examples of historians of food making that past tangible, and taste-able, not least You Are What You Ate, run by my Leeds colleague Iona McCleery. But I would not usually regard myself as a food historian.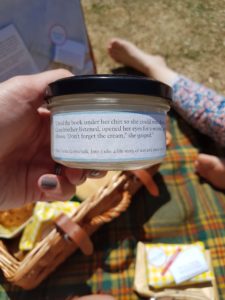 I saw the picnic as just one compelling way of starting a conversation about how we think about and remember those who have died – and how that's changed. It opened up an opportunity for thinking about the role of the senses in remembrance, and how remembering people is also related to our own identity – as British, Scottish, Estonian, northern, working-class or whatever else. The experience of eating and participating, as well as visiting the caravan, made this an evocative and meaningful experience of engaging with research.
That said, any collaboration worth its salt has to go both ways. One of the best things about collaborating with creative practitioners is how their ideas shape our own research as much as vice versa (and I've written about this elsewhere). I hadn't thought about food much before Ellie asked me what role it had played in the lives and ways of remembering of the people I'm studying. Now it's something I'm writing about – maybe I will become a food historian, after all.
The amazingly original, creative ideas of the artists and designers were also a hundred times more engaging – and beautiful – than any way I dreamt of presenting my research. Perhaps most remarkable was how carefully the Grief Series artists thought about the fit between the message we wanted to send and the medium through which we did this.
Bethany Wells, project designer, summed this up as we sat in the sun and ate blackberries and cream.
After all', she asked, 'if the kind of research you do is about everyday life and ordinary people, why wouldn't you present that research back in a form that's of the everyday and ordinary?'
And what's more essential to and symbolic of our everyday lives than food?
About the author: Dr Laura King is Associate Professor in the School of History at the University of Leeds. Her current project is entitled Living with Dying: Everyday Cultures of Dying within Family Life in Britain, c.1900-50s. She has collaborated with a wide variety of partners, and has published on collaboration and engagement as well as on her research into everyday life and emotional relationships in twentieth-century Britain. This project was funded by the Arts and Humanities Research Council (AHRC), through a Leadership Fellowship and Follow On Funding, and by the Arts Council. Laura would like to thank Ellie Harrison and the Grief Series, and Dr Jessica Hammett for their generosity and general brilliance as collaborators.