Freya Taylor and Louise Bell, Glasgow Women's Library
---
This blog explores the '(Still) Seeing Things' project run by the Glasgow Women's Library (GWL). We're lucky to have perspectives from two volunteers: one (Freya) who was involved in the project in its initial format and helped bring it online during lockdown; and another (Louise) who has only been involved since it went online.
---
Freya:
Seeing Things is a project run by Glasgow Women's Library (GWL) staff and volunteers. We organise and facilitate trips to cultural events and spaces such as art exhibitions, talks and film screenings. We want to draw attention to women creatives and introduce new audiences to them. When organising these trips, we want to support women to attend and we try to remove any barriers that they may face. For example, we cover travel costs up to £5, choose wheelchair accessible venues when possible and provide easy to understand information about how to get to venues. We also try to make inaccessible language easier to understand when describing the events or artworks we are going to visit. When planning events we try to select female creatives from all walks of life, ensuring that BME and LGBTQ+ communities in Scotland are represented. A sense of community and socialising is important to us too and we always try to include a cup of tea and a chat about what we have seen at the end of our trips.
I have been volunteering with the project for a few years now and have had some experience of the changes it has gone through. Those involved in running the project get together often to discuss how trips have gone, look at feedback from attendees and reflect on what we can do better. I think any project should be constantly evolving and we are always trying to learn from our successes and mistakes! Ideas that have been successful are introducing the tea and chat I have mentioned, as well as getting in touch with venues in advance – which has resulted in some great talks and tours, allowing us to understand the work we are seeing a little better. We also began to introduce a creative activity which responds to what we have seen such as creative writing. The current global pandemic has brought new challenges and organisations such as GWL have had to find new ways to keep up their events and support their 'visitors' online.
Through conversation between staff and volunteers a virtual version, #StillSeeingThings, evolved. This has involved weekly social media takeovers. The subjects and format vary, but generally we research an artist or exhibition and create a Twitter thread with our findings. The transferral of a project which is so focused on community, conversation, and interaction to an online format poses many challenges. We have tried to combat as many of these issues as possible, making the takeovers accessible by avoiding overly academic language, including image descriptions and video resources with captions, and capitalising hashtags (e.g. #StillSeeingThings, instead of #stillseeingthings).
Getting other people involved, such as staff from a museum we are virtually touring has also been great. These takeovers are no replacement for the Seeing Things trips, but they are reaching people who are alone during lockdown and taking us all over the world! For example, we have 'visited' an online exhibition in New York, at the Modern Art Museum, and in Norfolk at the Ancient House Museum of Thetford Life. As well as bridging a gap with distance, we might be reaching a wider audience through this digital version in other ways. People who could not attend for many reasons such as care commitments or disability are able to engage. We are considering how we can continue to reach this audience post lockdown. As a volunteer it feels great to be involved, and it's a point of connection to others at a time when isolation and loneliness could easily dominate.
As we move out of full lockdown here in Scotland, we are all navigating new challenges. Seeing Things and #StillSeeingThings will continue to evolve and change, benefitting from continual reflection and listening.
Louise:
I had never been involved with Seeing Things, before lockdown. I knew that it was this wonderful initiative that GWL undertook, and I've always thought it sounded amazing – but life, and work, tended to get in the way of me joining in. Normally, I'm one of the tour guides for GWL's range of women's heritage walking tours in Glasgow. But having to make so many things digital has meant that I can participate in a lot more, which has been great at keeping me involved, and busy, during lockdown.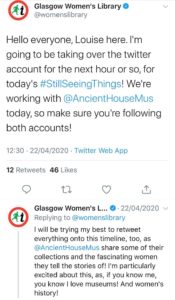 #StillSeeingThings appeals to some of my favourite things in life: social media, women's history, heritage and culture, and public engagement. I've done two takeovers so far, and am currently prepping for my third. I was thrilled when my first Twitter takeover was in partnership with Norfolk Museums and their Ancient House Museum. This was a slightly different way of doing things, and mainly involved me engaging with what they posted on their own feed, and creating a thread on GWL's twitter discussing it and trying to engage everyone in a conversation. Particularly great was getting to hear from different members of staff at the museum, and they covered a very wide breadth of interesting stories relating to women in their collections.
For my second takeover, I got to share the hour with another volunteer, which gave a rich and wider perspective on what we were looking at. Our focus was the Dorothea Lange exhibition, which should have been on at the Museum of Modern Art (MoMA) in New York, but which they have now put a great deal of information online about. You can view the content by following this link.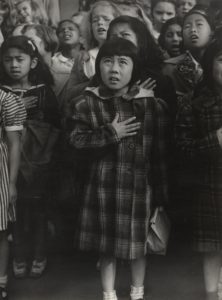 We worked together to cover images that spoke to us, or that we found particularly interesting or emotive. Being able to engage with it from a personal point of view makes the takeovers seem that bit more human and engaging, and lets you speak in a more confident and comfortable manner. I will be the first to admit that I don't know a lot about art and, in this case, Dorothea Lange. But it's not just the public learning something – I find this is also enriching my life and widening my knowledge of female creatives.
Social media is such a powerful tool, always, but especially in this current climate. It means that we can reach people who might not normally be able to visit these exhibitions, as a result of, for example, distance or ability. (We would never have normally been able to make a trip to MoMA!) But as we reach these wider audiences, I think it's important to remember the small steps that we can take to make sure that the content we are putting up there is as accessible as possible: videos much have captions; images must have alt text descriptions; hashtags must have a capital letter at the start of each new word in it. There are all things I've been aware of, and are now becoming second nature, thanks to us having to use social media so much.
We hope that you will join us on Twitter one Wednesday (from 12:30pm) for #StillSeeingThings.
About the authors: Freya is a student of Scottish Ethnology at the University of Edinburgh, having previously studied Contemporary Art Practice. Her interests lie across social and cultural history particularly within feminism, craft and folklore. Freya has volunteered with Glasgow Women's Library on a number of projects since 2017.
Louise is an independent historian, who usually works on First World War and prostheses. She has been a volunteer with Glasgow Women's Library since 2019. Louise is also one of the editors of the Social History Society's Community Exchange blog (i.e. this one!)
Glasgow Women's Library is the only accredited museum in the UK dedicated to women's lives, histories and achievements. GWL consists of a lending library, archive collections and an amazing programme of public events and learning opportunities.