Dr Vivien Newman, First World War Women
---
On 20 April, The Shields Gazette reported that 'residents are knitting hearts to cheer up patients being treated for coronavirus in intensive care'. This reminded me of knitting in World War One. In 1914, Secretary of State for War Lord Kitchener issued a Call to Knitting Needles. Knitting was and would remain vital to the war effort. In the decade preceding 1914, the regular army used approximately 220,000 shirts and a million pairs of socks annually. Now these quantities were required within weeks and would need continuously replenishing. Suppliers were needed – but where were they?
The answer: everywhere; in cottages, schools, suburban villas, manor houses and even palaces. Knitting crossed class, age and gender boundaries. Diarist Ethel Bilbrough noted, 'the great era of knitting set in'. London teenager M. Coules remarked, 'Everybody was knitting, all our conversation was punctuated by "purl, plain, purl, plain'" although occasional interruptions to deal with dropped stitches made conversations problematic. Schools quickly joined the kitting craze, at North London Collegiate School 'Every girl who could not knit is learning to knit now', pupils requested their annual prize money be spent on buying wool to keep up the god work. In Yorkshire, 11-year old Hilda, 9-year-old Amy and even three-year-old Constance Tyreman contributed 194 knitted items to their school's total of '745 warm comforts'. Like thousands of children, Amy included letters with her gifts. Great was the joy when the soldier wrote back, although some correspondences left children heartbroken when their pen pal was killed.
Knitting was not confined to Great Britain. In Germany, 12-year-old Piete Kuhr's 21st September 1914 diary records teachers' new way of enforcing discipline. Fines for misdemeanours were used to buy wool. Schoolgirls knitted in class whilst listening to stories of German victories. Certainly unfamiliar with the eponymous 'Kitchener Stitch', Piete bewailed her inability to knit the foot.
More talented than Piete, rebellious French 6-year-old, Françoise Marette believed she was being turned into a performing monkey with visitors being invited specifically to watch her knit; she subsequently became a child psychologist! However, Australian Nora Pennington relished her achievements, winning the district record for 'the number of socks, mufflers, mittens and balaclava helmets knitted by anyone under the age of thirteen'. Knitting for the war effort did not bring out the best in everyone: decades later classmate David Gleason remembered, 'the rest of us longed to grab her knitting, rip the stitches out and snarl her wool for her'! All this knitting tried his patience. 'The house was always full of women clicking needles … making huge quantities of socks, vests, mittens and mufflers.'
The elderly were equally involved. The 25th September 1915 Ballarat Star's obituary for 'Mrs Lavinia Rhys, a month short of her ninetieth birthday', explained she was 'busily engaged knitting socks for the soldiers.'
Serving personnel's letters begged their families to urge knitters on to greater efforts, emphasizing the desperate ongoing need for socks. In November 1914, at No. 5 Casualty Clearing Station in France, Army Nurse Jentie Paterson whose letters and diary resonate with the horrors of war, besought those at home to continue knitting because, sometimes 'moulded to their limbs', soldiers' socks have, 'generally been on 5, 6, 7 weeks'. Frost-bitten feet could lead to amputation. As they battled to keep patients' feet warm in the frequently tented hospitals, or on the inadequately heated hospital trains and hospital barges, most nursing staff would have agreed that soldiers' feet, even their lives, depended quite literally upon Home Front knitters. In November 1915, Jentie used some of her precious leave to give a fund-raising 'lantern lecture', the subject: soldiers' need for socks.
Canadian Sister Agnes Warner was equally desperate, 'So many of the men have just straw in their boots and are almost frozen.' Quick to acknowledge gifts, Agnes told knitters their socks were dispatched 'to the dressing station by ambulance, and from there they go to the trenches at once'.
Member of the First Aid Nursing Yeomanry (FANY) Pat Beauchamp took knitted comforts to entrenched Belgian troops. Devastated that her supply of socks and scarves was insufficient to go round the men who so desperately needed them – some had not had clean ones in three months, having donated her 'own scarf' she 'could only turn sorrowfully away' and beg those at home to keep up, even increase, their efforts.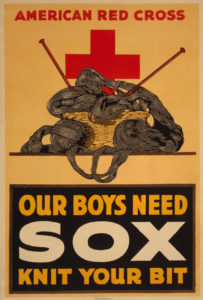 When America entered the war in 1917, Red Cross posters shrieked at civilians 'Our Boys Need SOX'. Like all Red Cross organizations, the American one provided knitters with patterns, wool if necessary, and shipped the items overseas. American troops' were calculated as needing one and a half million each of knitted wristlets, mufflers, sweaters, and pairs of socks although, due to the nature of trench warfare, socks were, as for all other soldiers, paramount. The New York Sunday Sun ran competitions for poems about knitting. The prizes? Balls of wool. If the subsequent published volume (the wonderfully named, Sock Songs) is representative, the competitors were numerous and the socks they knitted must have equipped many a battalion.
Fun has been frequently and unjustly poked at this Knitting Army and its truly staggering output. If referred to at all in histories of the Great War, it is often with derision. Yet personal testimonies reveal stories of those who – not unlike the myriad Covid volunteers who drop off shopping for the vulnerable, cook meals for lonely self-isolators, or knit hearts to cheer patients –  could not serve in a professional capacity, yet knew their seemingly simple contribution to the War Effort was vitally important. We are rightly lauding key workers and those on the medical Front Line. When historians explore the pandemic, will the volunteers working in the shadows be mentioned, or will the 'big picture' swamp their efforts? It would be a shame if they were, as their actions and eagerness to help will enhance historians' understanding of Life in Time of Corona.
About the author: Viv Newman is an independent researcher and author who has published six books about women and children in the First World War. Her PhD from the University of Essex explored women poets of the Great War, arguing that their work provides a wealth of primary material for this crucial period in women's history. Her 'Corona' You Tube talks can be accessed at firstworldwarwomen.co.uk or via the publisher Pen and Sword.