Dr Lucie Whitmore, Museum of London
---
Hello, and welcome to another episode of London's Fashion Alphabet!
These words have been used by numerous Museum of London staff members over the last year, as we have worked our way through the alphabet in a new digital series, sharing some of our favourite objects in the museum's Dress & Textile collection. A was for Hardy Amies, B was for Boudoir Caps, C was for Corsets, and at the time of writing we've reached the letter T. (The full series is available to watch on the Museum of London website and social channels including YouTube and Facebook). London's Fashion Alphabet (LFA) was started at a time when the Museum of London had closed its stores to research visits. It now continues into an unprecedented period in which the Museum has closed its doors. This blog post will outline the series, explore the reasons for its success, and question how such content can continue to reach museum audiences while in-person visits are out of the question.
The series was created in the spring of 2019 by Lucie Whitmore (Fashion Curator), Beatrice Behlen (Senior Curator of Fashion and Decorative Arts) and Laura Muldoon (Social Media Manager). The plan was to create an informal behind-the-scenes series to share stories from our Dress & Textile collection with online audiences and highlight the work of different staff members at the museum. The A-Z format, while simple, seemed like the perfect structure. It is open enough to encompass a wide variety of objects but also sequential – giving viewers something to follow and tune-in for. We had little-to-no budget for the series and wanted it to feel accessible, so it was filmed in-house using equipment the museum already owned, with  minimal-editing and staff time required. We all prioritised captioning for accessibility.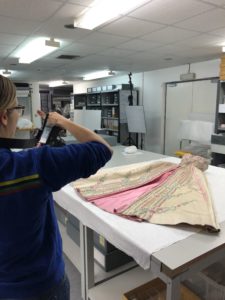 Despite the modest budget and resources, it has proven to be one of the most successful social media series put out by the museum, ever. On Facebook alone, the series has had 1,934,719 views, reaching 3,434,896 individuals and receiving 439,434 engagements (that's the 'like's, comments, shares and clicks).
We believe that this success comes down primarily to the stories that our objects can tell, and the intimate way in which the stories have been captured. But of course the wonder of the collection itself is a hugely significant factor. The Museum of London Dress & Textile collection comprises around 24,000 objects, dating from the 15th century to the present day. It includes fashionable dress, archaeological textiles, flat textiles, dolls, accessories, uniforms, working dress and performance costume. While the LFA series has mostly maintained a 'fashion' angle, episodes have also featured jewellery and other wearable objects from the Decorative Arts and Archaeological collections.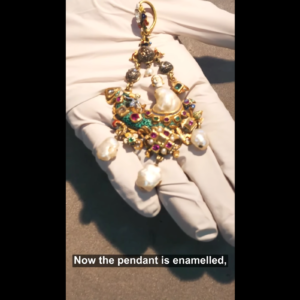 Filming of the LFA series started in spring 2019, with Senior Curator Beatrice Behlen standing amidst the roller-racking storage of the Dress & Textile store next to a truly fabulous early 1970s Hardy Amies ensemble. Since that moment 11 members of staff from 3 departments have made 22 films in the museum's stores and galleries, covering two millennia of fashion history. The episodes often start with an object reveal, removing tissue paper or opening a tyvek garment bag, to share the exciting moment of 'discovery' with viewers. We purposefully have not staged or doctored the filming locations, but set-up in our usual workspaces to enhance the intimate and immediate feel of the films. The objects are not treated or mounted by conservators before filming but are generally 'as we find them'. This is not a glossy television series; we want people to feel that they are stepping into our stores and getting a true insight into what museum work looks like. This has caused more than one viewer to ask whether we are ever allowed out of our 'cold war bunkers'!
No matter the subject handled, every episode strives to demonstrate the ways in which our objects tell compelling and varied stories of London lives. While seemingly simple, this ensures that the series reflects the scope of the collection and the aims of the Museum of London – which is primarily a social history museum.
It would be wrong to discuss the successes of the London Fashion Alphabet series without mentioning the viewers. As museums today worry about 'live streaming into the void', there would be no point in us making this series if nobody was watching, commenting, or asking questions. We could not have anticipated the warm and generous response that the series has received around the world, with many viewers actively engaging on social channels where the episodes are shared. Amongst the most common interactions are those sharing their own memories of the objects discussed, those wondering what the next letter will stand for, and positive comments signalling that they have learned something new from the series. These comments totally justify the time and work that go into the series, and as a curator I feel that – despite the lack of physical access – I have fulfilled my purpose to interpret and share collections for a wide audience. We have also considered viewer comments when planning which objects to share next and how to tell their stories.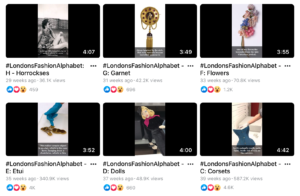 The Dress & Textile Store – usually open for research appointments – has been closed since the start of 2019 while essential collections work is carried out in preparation for our move to a new museum site. A core goal of the series was to provide a different kind of access to the collections while in-person visits were temporarily suspended. While many museums provided comparable digital content prior to the Covid-19 pandemic forced closures, it is nonetheless fascinating to witness the unprecedented efforts now being made to share collections innovatively in a virtual setting. I'm sure we are all taking notes, and that our post-pandemic content will be richer for this unexpected test on the capabilities of museum staffers suddenly deprived of their physical objects. Look out for the final four episodes of our series coming soon, that will be filmed not in the museum 'bunkers' but in our own homes, where we will have to rely more than ever on our storytelling skills as we too are 'socially distanced' from our collections.
With thanks to Laura Muldoon and Beatrice Behlen for their contributions to this post.
About the author: Lucie Whitmore is Fashion Curator at the Museum of London, where she helps care for a dress and textile collection spanning six centuries and 24,000 objects. In 2019 she completed her PhD at the University of Glasgow. Her thesis was titled Fashion Narratives of the First World War and explored the impact of the war on women's fashion in Britain between 1914 and 1920. She is co-founder of War Through Other Stuff, a society dedicated to exploring the non-military history of war.  She is particularly interested in the relationship between fashion and war, and the capability of objects to tell stories of women's lives.